5MP USB Camera Module for Skin Detector
Product Detail
Datasheet
FAQ
Product Tags
High quality image HD 5 Megapixel Aptina MI5100 CMOS Sensor USB Camera Module with 80 Degree FF Distortionless Lens
Product Description
The Hampo 0093 camera module has a pixel of up to 500M, and the sensor size is 1/2.5". It has the advantages of good picture quality, high pixel, high color reduction, and is the most perfect choice for high shot skin detection camera, and can also be used in financial, administrative, education, industry etc.
The sensor itself has a native resolution of 5 megapixels and has a fixed focus lens onboard. What's more, the camera uses roll-up exposure, and has a wide dynamic range of up to 70dB, enabling it to take sharp images in complex lighting conditions.
It is compatible with Windows XP (SP2,SP3), Vista, 7, 8, 10 and Linux or OS with UVC Driver.
Features:
1. Super Aptina MI5100 Image Sensor: 5 megapixel USB camera module adopt high quality Aptina CMOS MI5100 sensor, deliver sharp images effectively. High definition with low color reproduction deviation. Frame rate 2592x1944 at 15fps, 1920x1080 at 30fps.
2. Big Sensor Size: Adopt a large sensor on 1/2.5" CMOS MI5100, bigger size of sensor, make a better image with less light. A supper clear video image is perfect for beauty, medical equipment.
3. Plug & Play: Drive-free USB camera module is very easy to use, just need to plug the camera to USB port, no need to download or install any drivers. High speed USB 2.0 USB camera also support OTG protocol(UVC).
4. Lower Color Reproduction Deviation: Camera with High definition and lower Color reproduction deviation produce sharp image and accurate information, super small and thin profile for embedded applications.
5. Wide Compatibility: 5MP HD USB camera compatible with Windows Win XP/Vista/Win7/Win8 /Win10, Linux with UVC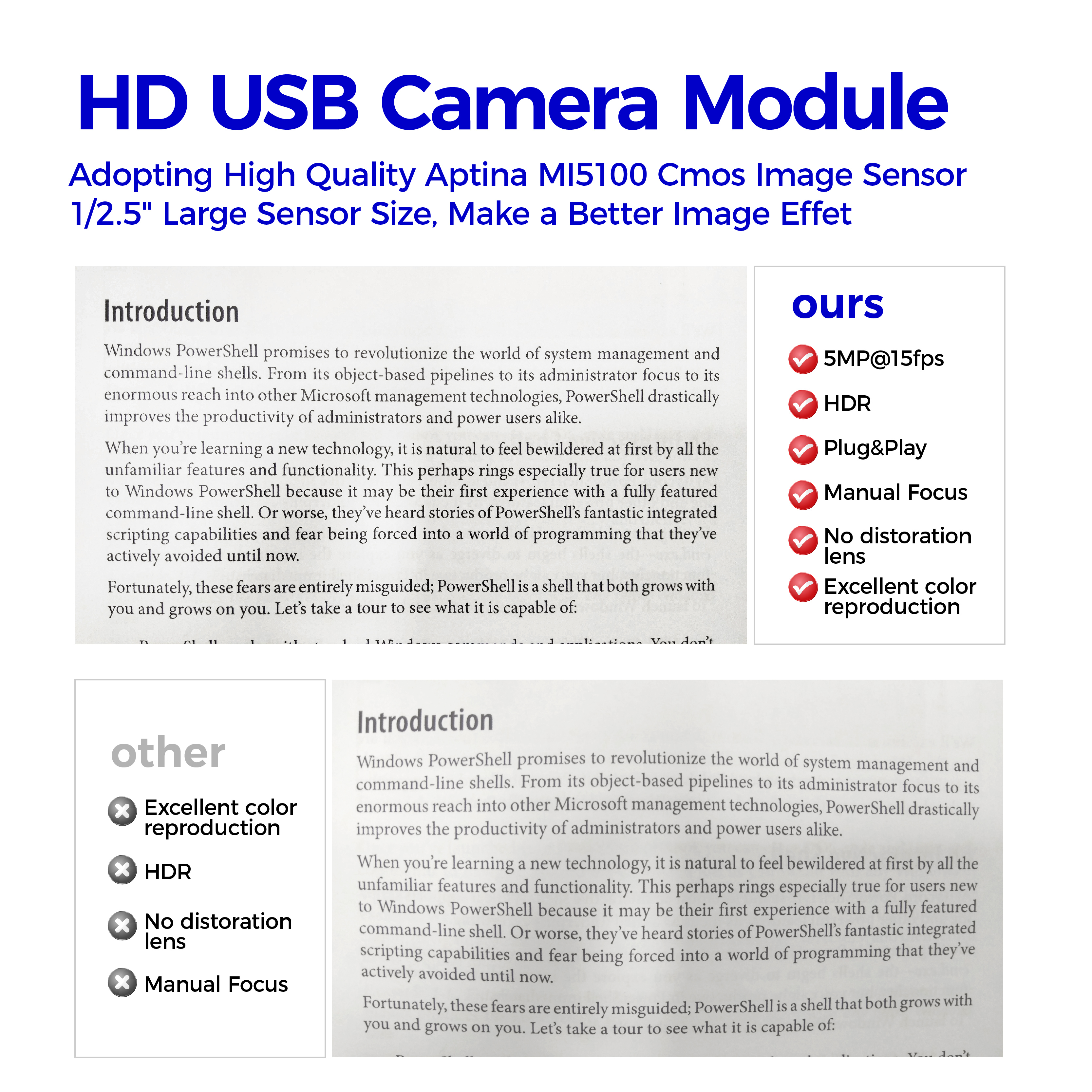 Specification
Model No.

003-0093

Max Resolution

2592*1944P

Sensor

1/2.5" MI5100

Frame Rate

MJPG 1280x720@30fps/1920x 1080@ 15fps/2592x1944@ 15fps.

Pixel Size

2.2μm*2.2μm

Output Format

YUY2/MJPG

Illumination

0.1Lux

Dynamic Range

70dB

Focus

Fixed focus

FOV

D=80° H=69°

Lens Mount

M12 * P0.5mm

Working Current

MAX 500mA

Voltage

DC 5V

Interface

USB2.0

Storage Temperature

-20ºC to +70ºC

Operating Temp

 -4°F~158°F (-20°C~+70°C)

PCB Size

32*32MM(Hole pitch compatible with 28x28mm)

Cable Length

3.3ft (1M)

TTL

22.1MM

Functionality and Compatibility

Adjustable parameter

Exposure/ White balance

System Compatibility

Windows XP(SP2,SP3),Vista ,7,8,10,Linux or OS with UVC driver
5MP usb camera mini webcam with angle 80 degree distortionless lens can widely used at home or office security, industrial or innovation video image system, such as ATM machine, security system,medical machine, industrial equipment,Kiosk, all-in-one machine, high speed document camera,advisement player,PC, house etc. Best for beauty detector,with the ultra sharp image resolution, which good for detect and analy the skin, hair etc. problem.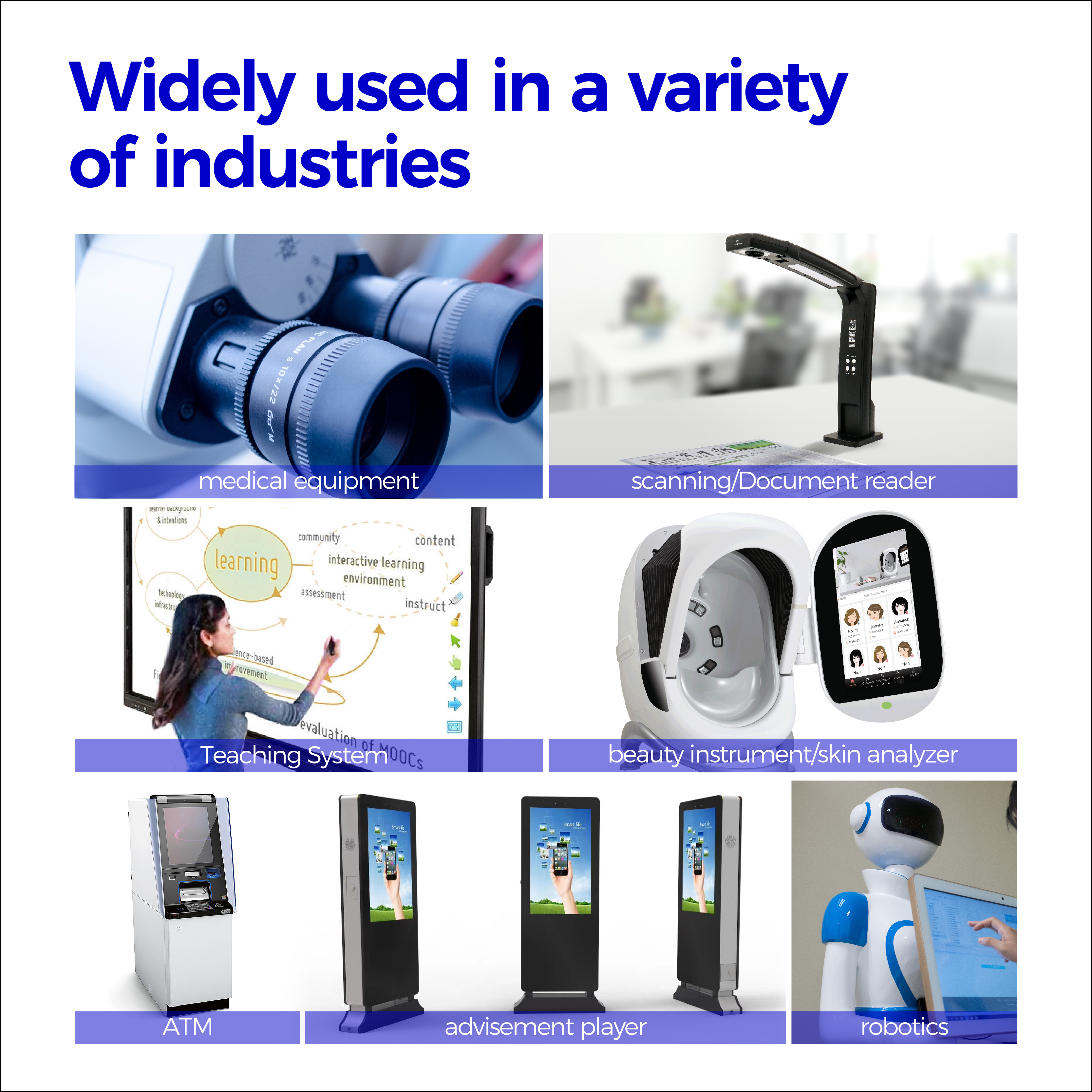 ---
---
Write your message here and send it to us