OEM 256*192/160*120 Tiny Infrared Thermal Camera Module
Product Detail
Product Tags
Description:
Buy the best and latest thermal camera module and we offer the quality thermal camera module on sale. Tiny1-c camera solution that is a smaller than a dime, fits inside a small device and is one-tenth the cost of traditional IR cameras. Using focal plane arrays of  256 X 192/160 X 120 active pixels easily integrates into the electronics as an IR sensor or thermal imager. The radiometric captures accurate, calibrated, and noncontact temperature data in every pixel of each image.Tiny1-C is a long-wave (8~14μm) thermal camera designed for consumer electronics. It captures infrared radiation and transmit it into thermal images and temperature data.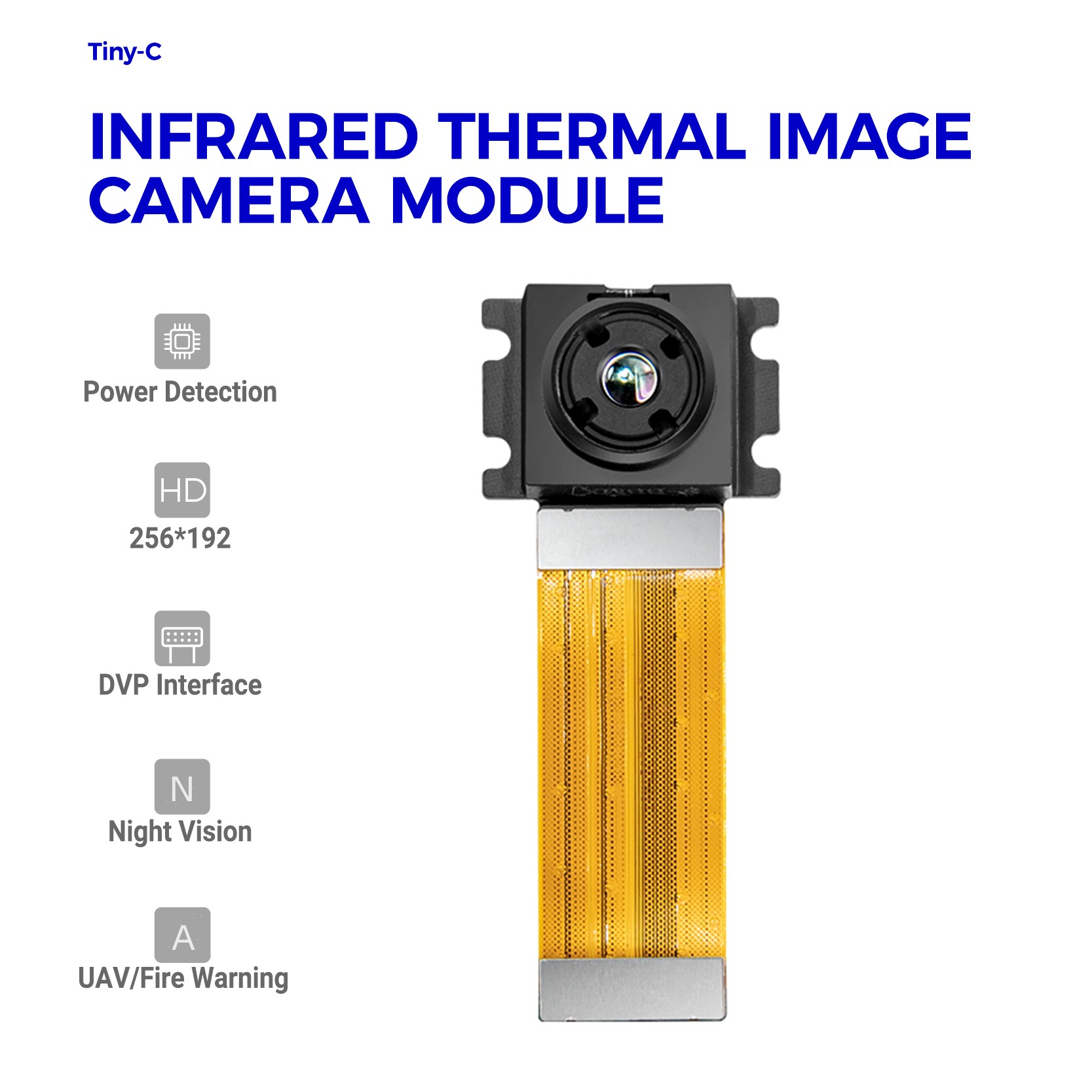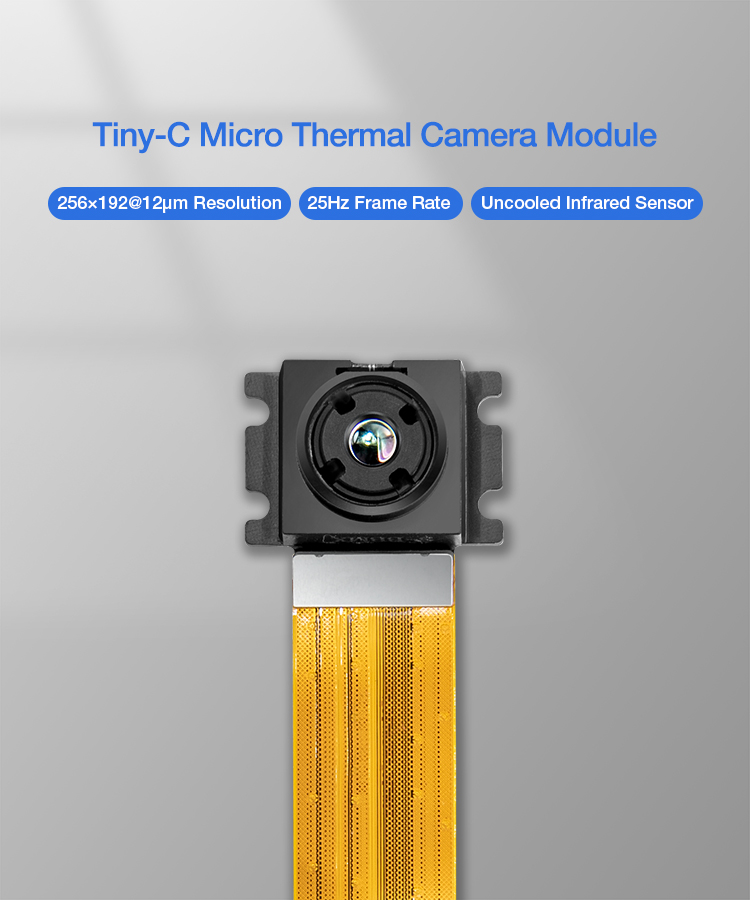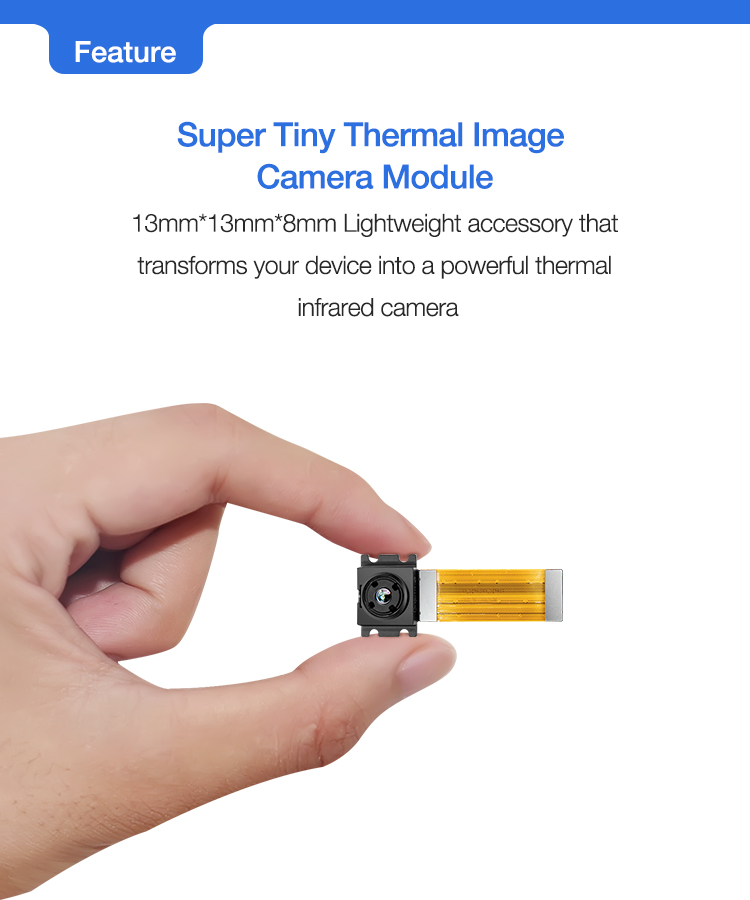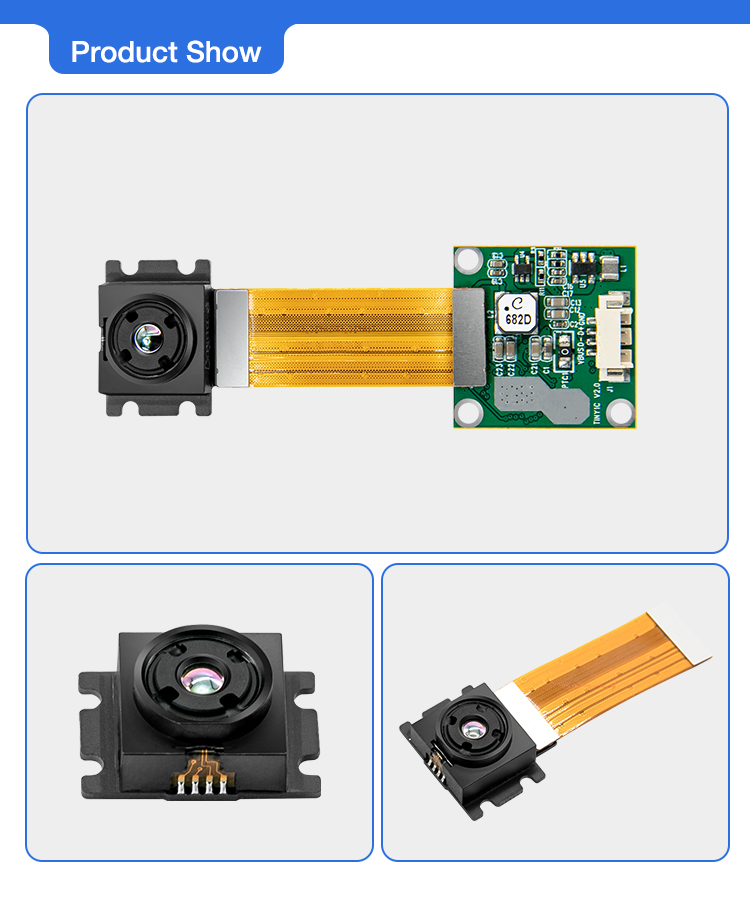 SPECS:
Technique Data
Tiny1-C
Sensor Technology
Uncooled VOx microbolometer
Spectral Band
8 μm ~14 μm
Resolution
256×192/160×120
Pixel Pitch
12 μm
NETD
<50mK @25℃,F#1.0,25Hz
Response Time
<10ms
Effective Frame Rate
≤25Hz
Non-uniformity Correction
Automatic with shutter
Image Output
10/14-bit CMOS
Lens
Athermalized
Temperature Measurement
Measurement Range
Industrial: -15℃~+150℃ (High gain mode); +50℃~+550℃(Low gain mode)Biological: +30℃~+45℃
Measurement Accuracy
Industrial: ±2℃ or ±2%Biological: ±0.5℃
Electricity
Input Supply Voltage
3.3V, 5V
Image Data Interface
SPI/DVP
Command and Control
I2C
 Power Consumption (@Room Temperature)
Operating: 240 mW (Typical)During shutter event: 600mW (Typical)
Mechanical
Package Dimension
13×13×8 mm
Weight
3.7g (2.0mm lens); 3.9g (3.2mm lens); 4.1g (4.3mm lens)
Environmental
Operating Temperature
-40℃~80℃ (Thermal maging)-10℃~75℃ (Industrial temperaturemeasurement) 10℃~50℃ (Biological temperature measurement)
Storage Temperature
-45℃~85℃
Shock
25g @11ms, half sine wave, XYZ directions
Features:
Extremely small size, extremely low power consumption, and extremely light weight Benefit from the size advantages of ASIC and WLP;Benefit from the low power consumption of ASIC;Mini series thermal imaging module has only one circuit board, which is extremely light.
Self-developed CoreWith advanced image detection algorithm, it can realize automatic monitoring alarm, warning area customizing, and automatic target recognizing or tracking;The interface software has complete functions and friendly interaction. It provides a variety of monitoring methods such as 360° panoramic image, radar image, and single frame image, and various parameters of the device can be set;When the monitored target appears, it can alarm via image slice, log, sound, and other methods;
Advanced image detection algorithmThe alarm position can be accurately displayed in real time on the infrared panoramic image and 2D/3D electronic map of GIS system, and link with other external devices. For example, combined with the ARD high-accuracy remote dual-spectrum early-warning imaging tracker, it can quickly locate and recognize the target, complete the alarm situation review process, and record the linkage process information;
Advanced image stabilization algorithmSmall size, customized color, easy to install and deploy in various environments;
Internet & smart home appliancesPower equipment testingTemperature measuring toolNight vision,security perimeterFire warning and fire fighting
---
Previous:
720P GC1054 Wide Angle Camera Module
---
Write your message here and send it to us