2MP AI Dual Lens Camera Module
Product Detail
Product Tags
Customized Dual Lens 1080P 30fps Driver Free WDR USB Video Class Camera Module for Face Recognition ID Detection Access System
003-0708/002-0709 is a synchronized dual lens USB camera module, with 1/2,7" CMOS AR0230 & RX2719 sensor, the max resolution is 1920*1080P @30fps. Wide dynamic rage could reach 96db. Binocular dual lens camera can obtain depth range data without identifying the target, but the single lens camera must identifying the target first, that's why the dual lens cameras being used widely on some industrial like face recognition, intelligent traffic etc. Smaller error, and more accurate.
There are 2 DSP/CHIP and 2 USB cables, each chip controls its own sensor, so the 2 sensors work separately, you can choose to use AR0230 sensor only, or you can choose to use RX2719 sensor only, or you can use them at the same time; What's more, you can choose their resolution & frame rate as you want.
Features:
Synchronized dual lens camera module:
2MP camera module utilizing the disparity between the two lenses through algorithms, allow MACHINE to see the world as we do. Passive stereo vision designed for environment versatility and featuring long-range capabilities and high-resolution depth perception.Small outline 80*16mm for embedded application
Full HD 1080P Resolution:
The camera module adopt two 1/2.7" AR0230 WDR color sensor. The max frame rate 1920*1080@ 30fps, full HD image.
WDR & Wide Angle Range Lens:
The camera's wide dynamic range up to 96db, and the wide angle range is FOV D=95°
Best Universal Compatibility:
Dual lens camera module support USB 2.0 OTG,plug&play. USB camera is versatile for Skype, OBS, Zoom, Go To Meeting, Facebook LIVE, and YouTube Live streaming services etc. Widely works with Win XP/Vista/Windows 7/8,Windows 10 Linux with UVC.
SPECS:
Model

003-0708

002-0709

Max Resolution

1920*1080

1920*1080

Sensor Size

1/2.7″

1/2.7″

Pixel Size

3.0μm*3.0μm

3.0μm*3.0μm

Wide Dynamic range

96DB

76DB

Output Format

MJPG/YUY2

MJPG/YUY2

Focus

Fixed focus

Frame rate

30fps

Voltage

DC 5V

Working current

MAX 500mA

Interface

USB 2.0

Storage Temperature

-20°C to +70°C

1) Windows XP(SP2,SP3)/Vista/7/8/10

2) Linux or OS with UVC driver

Audio

/

PCBA Size

80*16*20mm

FOV

D=95°

TTL

15.29mm

Lens construction

2G2P

Thread size

M12*P0.5mm
Applications
Access Control System
ID Detection
Face Recognition
LED Display etc.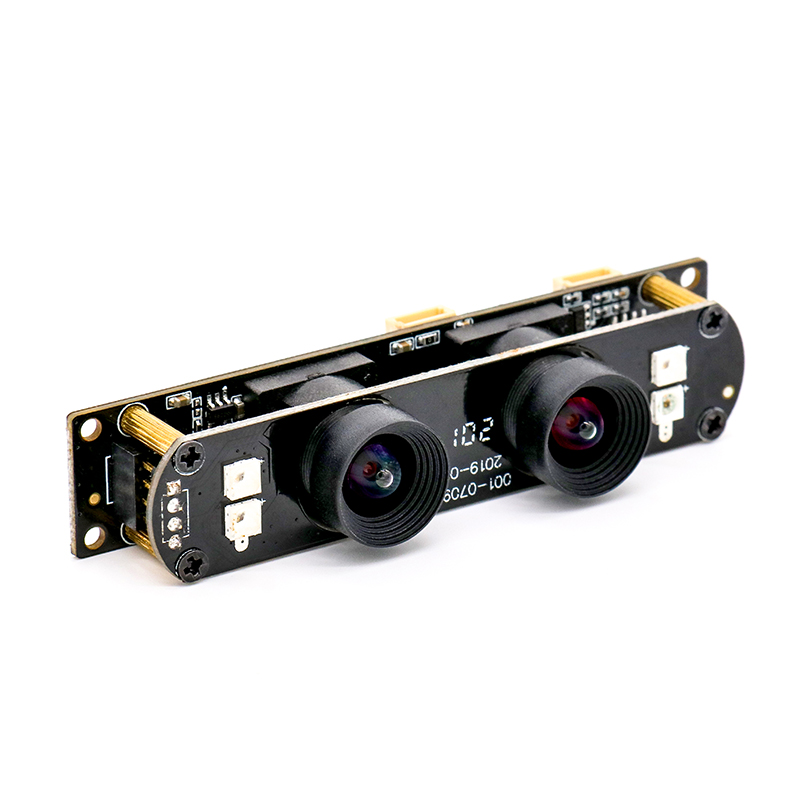 ---
---
Write your message here and send it to us