2MP AF Camera Module Support H.264 H.265
Product Detail
DATASHEET
Product Tags
OEM GC2093 CMOS 2MP Full HD 1080P 60FPS Fixedfocus USB Camera Module with 3D Noise Reduction Digital Mic for Machine Vision
Descriptions
Hampo 003-1747 is a 2MP HDR(High Dynamic Range) camera module support H.264, which could clear capturing image under backlight scenes with 89dB dynamic range in 1080p resolution.
This HDR USB camera modules are compliant with UVC protocol, based on GalaxyCore GC2093 CMOS image sensor with pixel size of 2.8 x 2.8 µm and a dedicated high-performance Digital Signal Processor (DSP), that performs all the Auto functions (Auto White Balance, Auto Exposure control).
This 2MP camera module captures images at a 60fps high frame rate,build-in 3D noise redution Mic, the max effective pixel array at 1920*1080, or 1080*1920. Wided used for applications such as data collection , security monitoring , face recognition, access control system, video conference, Smart terminal, and Car monitor.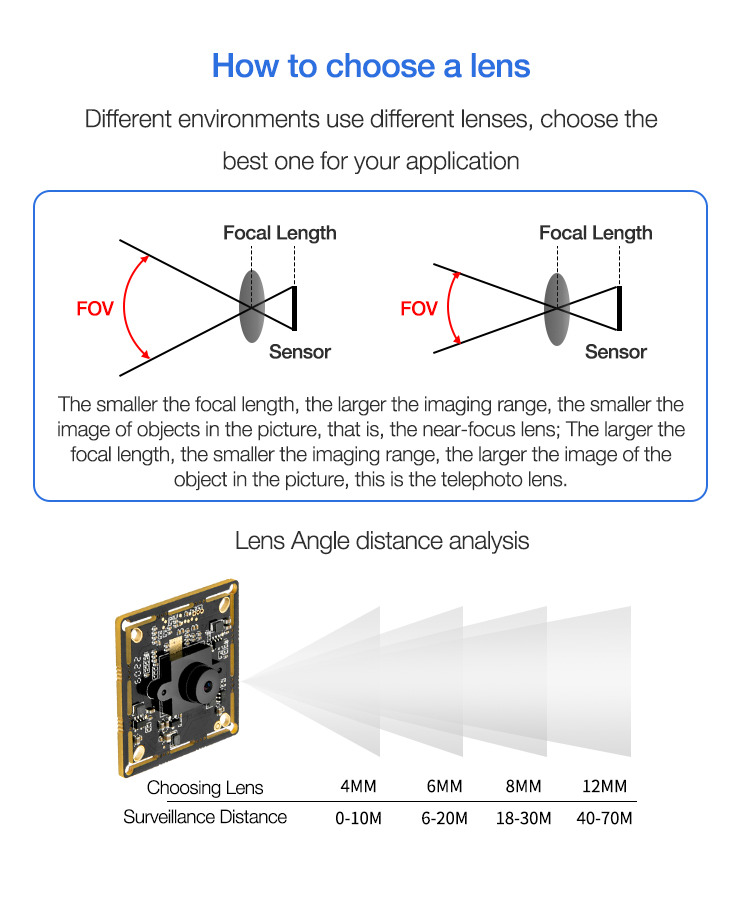 Features:
Full HD Resolution: The camera module adopting 1/2.9" GalaxyCore GC2093 CMOS image sensor, the max resolution is about 1920*1080 & 1080*1920.
High Frame Rate: 2MP (1920H x 1080V & 1080H x 1920V)HD definition with 60fps high frame rate at per second;
High Dynamic Range: The camera module with HDR technology, the max dynamic range could up to 89dB, which allow the camera capture a clear image or video even under the backlight condition.
High Compression: H.264 compression technology on USB Camera for sharp image and accurate color.
Plug&Play: UVC-compliant, just connect the camera to PC computer, laptop, Android device or Raspberry Pi with the USB cable without extra drivers to be installed.
 SPECS
Model No.

003-1747

Max Resolution

1920*1080P & 1080*1920P

Sensor

Frame Rate

MJPG: 1920x1080@60FPS; 1280x720@60FPS; 800x600@60FPS; 640x480@60FPS; 320x240@60FPS;                                                                YUY2: 1280x720@10FPS; 800x600@20FPS;
640x480@30FPS; 320x240@60FPS;                                                                H.264: 1920x1080@30FPS; 1280x720@30FPS; 800x600@30FPS; 640x480@30FPS; 320x240@30FPS;

Pixel Size

2.8μm*2.8μm

Output Format

YUY2/MJPG/MH.264

Dynamic Range

89dB

Focus

Fixed focus

FOV

D=74° H=67°

Lens Mount

M8.5

Distortion Rate

<1%

Working Current

MAX 200mA

Voltage

DC 5V

Interface

USB2.0

Storage Temperature

-20ºC to +70ºC

Operating Temp

0°C~+60°C

PCB Size

38mm*38mm&32mm*32mm

Cable Length

3.3ft (1M)

TTL

7.81MM

Functionality and Compatibility

Adjustable parameter

Exposure/ White balance

System Compatibility

Windows XP(SP2,SP3),Vista ,7,8,10,Linux or OS with UVC driver
Applications
Data collection, Security monitoring, Face recognition, Liveness detection, Access control system,Video conference, Smart terminal
Car monitor
Related articles: USB Camera Module Manufacturing Process
---
Previous:
720P GC1054 Wide Angle Camera Module
---
Write your message here and send it to us